Surely he jests Psychologist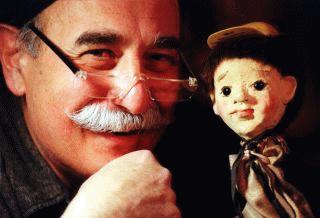 'Dr. Silly' uses play to make troubled kids -- and whole ones -- better
By Ann Archambault, Standard-Times correspondent

Muttering to himself ("Oh, Silly!") Dr. Anthony Palumbo paces down the hallway of a Wareham clinic. He arrives at his office door, which is plastered with pictures and signs drawn by children and bears the nameplate "Dr. Silly" in a colorful, crayoned scrawl. It's quite a contrast to the formal titles on all the other doors in a clinic where Dr. Palumbo -- a k a Dr. Silly -- has just completed his morning appointments.


" 'Shrinking' is a tough game," he sighs, putting his feet up on the desk of a cubicle-sized office strewn with children's toys, books and drawings. Dressed in sweats and sneakers, he speaks of the windmills he's been tilting at lately; his eyes sparkle, his voice occasionally booms, and his language is colorful.


This is something like Don Quixote meets Patch Adams. But Dr. Palumbo has been pushing joy and mirth as the true medicine for what ails our culture long before the "Patch Adams" movie was released. Giving up his clinical psychology practice 18 years ago, Dr. Palumbo devoted his time to helping children and families grow together through play. His motto is, "People who play together grow together."


Dr. Palumbo says he is thankful that Robin Williams (as Patch Adams) reminded people that if life isn't joyous, then it isn't life at all.


"The people who are the healthiest laugh a lot," he says.


As a cancer patient, Dr. Palumbo says he knows what he's talking about. He says he's looked death in the face, and it has sharpened him. Food tastes better because of it, and he doesn't suffer fools so gladly.


Since he evolved into Dr. Silly, he has created puppets and puppet theaters, using simple materials. He has invented puppets for handicapped children. He has visited children in shelters and schools in his "Sillyumpbus," an old bus filled with toys and creative materials. He has written a book, "Hug 'Em and Unplug 'Em," criticizing the effects of television on children. He has pushed children's radio programming, and visited Romanian schools and orphanages. It wasn't until recently, to finance his creative projects, that Dr. Palumbo once again took part-time counseling work.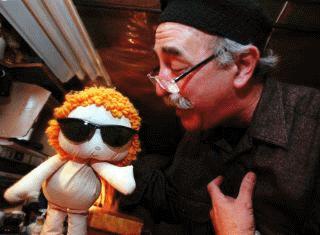 He wants to find a power broker who will support his ideas.


"We've really neglected our children," he says. "The social burden has been foisted on them by others. Those (neglected and abused) children are a growing population in the world, even in the fabulously successful America."


Last November, he carted boxes of toys, puppets and educational materials to Romania to help children and teachers in the economically stricken area. There he gave teachers' workshops, visited schools and orphanages with his own brand of Dr. Silly puppet therapy, and donated educational supplies. He pictures himself as a Bob Hope-style emissary, for the children rather than the troops. It was fitting that he stood on the site in Brasov where the Pied Piper was supposed to have led the children of Hamlin. In a sense, Dr. Palumbo sees himself as a Pied Piper, freeing children.


"I had come in a dual role, a guise that gave me permission to do and say things and behave in ways that anyone who didn't have the persona couldn't," he says. The importance of Dr. Silly, he says, is that this persona can serve as a connection, in the role of clown or psychologist.


"What happens to me now is Dr. Silly is like a middle ground, a bridge between adults and children," he says. At times he finds he must allow kids a break from the intensity of the "shrinking" portion of a therapy session. Dr. Silly can put his patients (who call him by that name) at ease.


Asked how his colleagues (who also introduce him as Dr. Silly) might describe him, Dr. Palumbo says, "An impassioned, dedicated child advocate."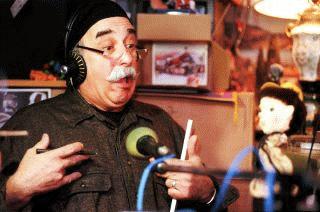 That hits the mark with Ana Azarian, a clinical psychologist at the Bradley Hospital in Providence, and an expert on post-traumatic stress syndrome. According to Dr. Azarian, who worked with children in Russia and Armenia after the Chernobyl disaster and the Armenian earthquake, her colleague is an "unusual man" who gets results with traumatized children.


"Not many people follow him --he does not keep inside his feelings. He's really a politically incorrect man, but kids love him. He has amazing results with kids," she says.


Children who suffer from trauma need strong therapies, she says, and Dr. Palumbo has the right approach. "He's not a typical clinician. He cannot do routine work -- he's very creative."


Children's radio is Dr. Palumbo's latest creative venture. He shakes his head at the simplicity and relative low cost involved, amazed that this idea hasn't taken off like a rocket. Currently he has 80 children's radio shows on tape, made either in his makeshift basement studio in Wareham, or on his farm (The Funny Farm) in Northern Vermont. Dr. Palumbo has been begging radio stations for a time slot. He had a slot at WOMR in Provincetown for a few months in 1998, and at WKKL at Cape Cod Community College, the previous school year. But program directors were looking for something different.


"I'm a beggar, I knock on doors that are closed to children," he says. He becomes indignant about being turned away. "Hey, I didn't ask (the program directors) to send them to college or to change their diapers." He sees radio as a way to get through to kids, better than television, which he says is out of control.


"When you put kids on radio, they grow 10 feet in front of your very eyes," he said. Although federal regulations require television to include children's programming, radio has no such requirements.

What is a Dr. Silly radio show like? There's "Cool School," a series Dr. Palumbo compiled for the Barnstable School District to augment class work. Or there is the Dr. Silly hour, with stories, music and conversation between Dr. Silly and a "kid" named Billy (whose voice does sound a little different from Dr. Silly's). Dr. Silly talks to the "Bs and Gs" about preparing for school, being kind to others, and avoiding too much television. The shows get a little more freewheeling when children participate, but Dr. Silly and his many voices pull the program together.


Dr. Palumbo's ideas go further than the children's radio programs. He wants to take his Sillyumpbus around the country and do radio interviews with real American families. These interviews will be part of his programming for the Romanian shows, to better describe the real Americans, a job that television hasn't done well, he insists.


"This is an opportunity for kids in America to exercise some imagination. Our language is a rich polyglot. It's jammin'."


Although tilting at windmills can get tiring, and he says he has to do the work of three people, Dr. Palumbo keeps on, knocking on doors, looking for grants. Like the song, "Gotta Dance," he says he's "Gotta Dr. Silly" for the children's sake.


"I've got to show them that they're OK, and don't throw in the towel. There's no one out there saying that."


---
Staff photos by Mike Couto
Dr. Anthony Palumbo of Wareham uses puppets in therapy sessions with his young patients. When using his playful approach, he's Dr. Silly, but he's quite serious about better care and education for children, both here and abroad. Dr. Palumbo demonstrates how simple it is to create a theater scene. (2nd photo)