Umbrella Stages were developed by Dr. Palumbo to help solve two problems : educational motivation and communication skill development. In the Special Education classrooms pictured, the preschool children were given the opportunity to watch and participate in an impromptu puppet show.
The curtain was cut into several panels and was translucent; the kids could see through it and not feel anxious about the enclosed space. The curtain material was loosely woven and children could see in and out of the stage easily. This design helped eliminate the shoving that often is associated with preschool kids confined in a small dark space.
The expressive language produced was exciting; there was no script or story line, only an opportunity to interact with aides who further prompted language expression with questions to puppets and commentary.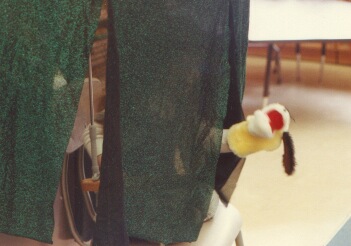 The Umbrella Stage is a useful puppet play design for all young children and particularly for children who require prompting and behavior management to participate in small group activities.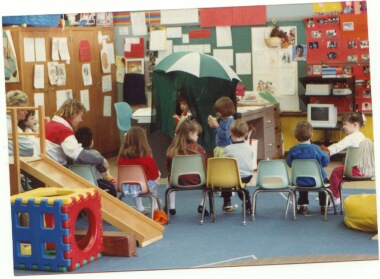 Notice how the classroom aides placed themselves near children who needed intermittent behavior management intervention. They both helped the children orient themselves toward the activity and manage their disruptive behavior.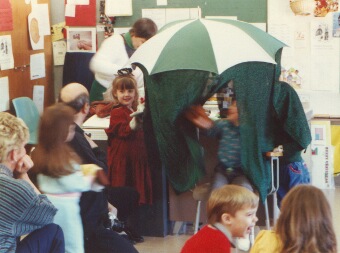 The flexible stage design allowed several children to participate, some were seated in one of the chairs that supported the opened umbrella stage, others crowded into the area by kneeling or standing around.